I chose to become a physiotherapist because…
From a very young age I wanted to be a nurse. A school teacher then suggested that I should look at other professions in the health service. Having spent time with physiotherapists at the local hospital I was convinced it was the profession for me.
What has surprised me most about my profession
How much things have changed over 25 years. Techniques and treatments go out of fashion, then come back again. The need for constant learning and continued development as a practitioner is essential – I enjoy the challenge.
What inspires my working day
Working with all age groups. Each day can vary sometimes seeing as wide an age variety as from a five year old child to a 95 year old. I just love my job – it's knowing how I can make a difference to a patient arriving in pain or feeling discomfort, and physically helping them to feel and move so much better.
Outside of work I love to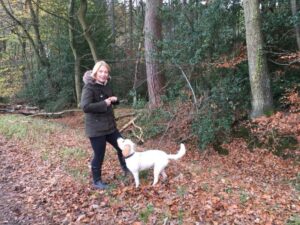 Spend time with my family – I love being a mum.  I enjoy walking in all weathers and recently acquired a dog so it's even more fun now.
I prefer group exercise classes to music rather than solo exercise – so you will find me in classes like body pump, step, spin boxing. Over the years I've tried them all! I also like to play tennis.
I love to challenge myself and have recently learned to play the guitar and snowboard.
What will always brings a smile to my face?
Penguins – you'll have to ask…
Words of wisdom I give my patients
Any exercise is better than none. Find something you enjoy and stick to it. Even if it's only once a week, it's so much better than none.
What Tracey's patients say
I have been having Physiotherapy with Tracey for several months now after knee construction and have improved rapidly, I have reached the stage where I only need to visit once or twice a month now as I have been given exercises to carry out at home. I would definitely recommend The Waldegrave Clinic.Kristian M
Very good service. Tracey di Matteo is an experienced and reassuring physio.Caroline E
Tracey's blogs you might be interested in
 By Physiotherapist Tracey DiMatteo Living in London we are privy to some of the best cycling routes so it is no surprise to learn that cycling is dramatically on the increase as…

By Physiotherapist Tracey DiMatteo When you are suffering with neck or shoulder pain, often, changes to the way you typically do things each day, or simple exercises can help. If…

By Physiotherapist Tracey DiMatteo When you are suffering muscular or joint pain, it can be difficult to decide which type of pain relief may help your condition. Medication can be useful…

By Physiotherapist Tracey DiMatteo The answer is yes. And bad posture is affecting more and more people at all stages of life. Posture can be defined as a state of…

By Physiotherapist Tracey DiMatteo As summer gets into full swing and tennis fever grips the nation, it's not unusual to see more tennis players at the clinic suffering pain! Tennis…