Nicholas Loftus graduated from the Anglo-European College of Chiropractic in 1994 (having previously worked in the wine trade for 5 years!) and joined the clinic in 1995. Since that time he has obtained a postgraduate diploma in Extremity Chiropractic (1997) and more recently has completed a postgraduate study in Dry Needling (Western Acupuncture), both of which have been of particular use in his practice. He is very keen to introduce all his patients to self-help spinal exercises regardless of age or occupation in order to complement his treatment.
I trained to become a chiropractor…
Having decided the wine trade wasn't going to be a long-term prospect I made a conscious decision to "go back to school" and study an area I'd always had an interest in – health and fitness. Chiropractic soon became the obvious choice of profession for me.
My most satisfying career moment
An elderly patient had a mole on his back and I insisted that he got it checked out (despite him having already been given the all-clear by two GPs and three Dermatologists). It turned out that it was indeed malignant, he had surgery within the week and was then given the all-clear. Not exactly standard chiropractic intervention but the look on his face when he came in made my week!
What I enjoy most about being a chiropractor
Initially what motivated and enthused me was the challenge of figuring out why my patients were having problems and learning more about how this amazing machine – the human body – worked. (I've always been fascinated by how things work and as a child probably took apart more household items to discover their inner mysteries than my parents would have liked!)
But as I've progressed, what now really gives me a buzz is the effect I can have on people's lives. Not just through treating their presenting complaints, but discussing with them more general areas of their lives which they may not have thought about – that can have an impact not only on their spines but general wellbeing too – and watching the transformations that this sometimes leads to.
Often it's not complex issues but everyday habits and thought processes which I try to address in as low tech a way as possible. It might be encouraging the use of smaller handbags to prevent shoulder pains and headaches, better posture whilst slaving over a hot computer or explaining why sleeping on your front might be preventing your spine from feeling comfortable.
Most people develop bad habits almost by accident and often just need a gentle wake-up call and a nudge in the right direction to improve their day-to-day health.
Outside of work
I thrive on variety. I've done various forms of martial arts for many years, currently kick-boxing; I go to the gym at least three times a week; I wake-board in the summer; I took up (equine) polo lessons (I rode competitively as a teenager) and the acoustic guitar three years ago and still enjoy both; and last but not least- I am a big petrol-head and get out in my TVR whenever the weather allows!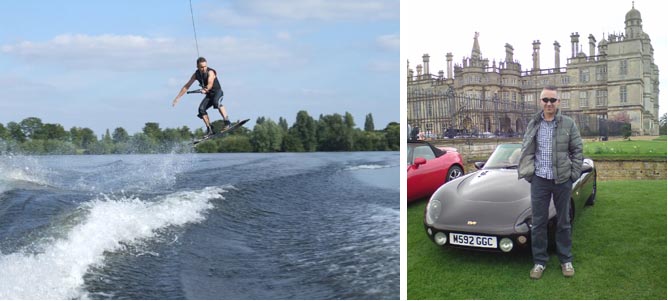 What inspires my working day
Working in a multi-disciplinary clinic with so many friendly and professional practitioners.
What will always bring a smile to my face?
This is an easy one. Peanut butter on toast.
Words of wisdom I give to my patients
Keep moving, avoid stress where possible and surround yourself with people who make you laugh.
What Nick's patients say
When I came to the Waldegrave Clinic I had been in pain for three and a half years since the birth of my twins. I was in so much pain in my neck and lower back that I had at least two massages a week which usually took the edge off the pain for a couple of days.
After a long train journey carrying two heavy bags I decided I had to do something different and so I made an appointment to see chiropractor Nick Loftus.
Nick examined me and suggested that I have x-rays as I had been experiencing pain for so long. The x-rays were done quickly on the premises and were good value. I was given the result immediately and felt completely shocked to see the damage to my neck and spine which Nick explained was probably caused by all the years of carrying my heavy bag which I used to joke was my office and also from constantly carrying my children.
Nick explained I had osteo arthritis but the good news was that there was a lot I could do to help myself and hopefully stop things getting worse.
It was so important to really know what I was dealing with and I embraced Nick's advice completely. I stopped carrying the children, my husband took over the shopping. I joined the gym and took up Zumba and body balance and I started a diet.
For the first time in years I am now pain free most of the time and my husband bought me a lovely new and very small LK Bennett bag to carry my cash and keys in only!
I can highly recommend Nick and the clinic and I appreciated the honest and kind advice he gave me about putting myself first so I could be a happy Mum to my children.