I trained to become a physiotherapist because…
From an early age, I lived and breathed football on an hourly basis and like most young athletic boys aspired to be a professional footballer.
However, at  10 years old, a bone crunching tackle fractured three of my toes. Post healing, I was unable to play more than 30 minutes of football – and sadly realised I was never going to become a footballer.
Having an inquisitive mind, I wanted to know how a relatively small injury could have such an impact on my dream career. Discovering the realms of injury and rehabilitation – I was hooked. I went on to do a BSc in Sport & Exercise Science before embarking on a MSc in Physiotherapy.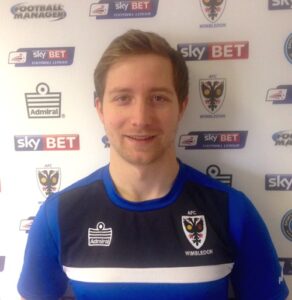 Since qualifying, I have worked with a number of professional football teams, as well as private practice – so I am living my dream career.
What has surprised me most is
The varying personalities that you come across as a practitioner, and the psychology behind how different people deal with their injuries.
The laissez-faire person can be so relaxed about an injury, whereby the hypochondriac can send themselves into fits of worry. Being able to deal with the different personalities has certainly helped me to understand the psychology of injuries a lot more.
The challenges I have enjoyed
Physiotherapists are not just physiotherapists – they are teachers, carers, managers, a shoulder to cry on, and much more. As a sports physio from simple things like making sure youth players are asleep on tour, to teaching students, to managing a cohort of staff. Being able to travel abroad with teams to places across Europe such as Brussels, Pau and Rotterdam.
There is much more to being a physiotherapist than I ever expected.
My most inspired career moment
Was working with children with cerebral palsy in a school in Nepal. I did this for 4 weeks and can honestly say it was the best experience of my life.
Outside of work I love to
Socialise with friends, travelling and being involved with football. I also have a passion for cooking – I was a chef – although I don't get much time for this.
What glimpse of wisdom can you offer about health/ the body
Everything in moderation.
What will always bring a smile to your face?
Knowing that I have improved somebody's quality of life.
What Toby's patients say
My experience at the Waldegrave Clinic was nothing but exceptional. Toby Evans was highly professional with the treatment and expertise, without hesitation I would recommend him to anyone who had similar problems as myself. A really big thank you.Alastair Green